Overview
Example for in app payment using the Loom Store API.
WARNING: This example does not work out of box. Testing in app payment on device requires that you have valid certificates, application ids, product ids, test accounts, and legal agreements in place with your platform provider under your development account. This varies by platform, and requires setup. See the Loom Manual for details on getting set up for in app purchase.
This application launches, queries the store for SKU information, then once information is received, it prompts you to purchase an item. As each step completes it logs output and updates the app caption.
Learn More
LoomCast Episode #3 - Loom Store & In App Purchase on Android
Try It
Use the following Loom CLI commands to run this example:
loom new MyStoreExample --example StoreExample


cd 

MyStoreExample
loom run

Screenshot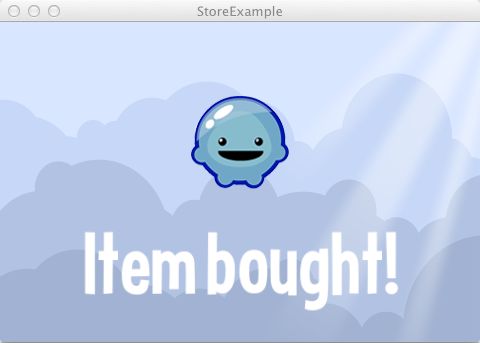 Code
src/StoreExample.ls
package




{



    

import

 

loom.Application

;

    
    

import

 

loom2d.display.StageScaleMode

;


    

import

 

loom2d.display.Image

;

   
    

import

 

loom2d.math.Point

;

   
    

import

 

loom2d.textures.Texture

;


    

import

 

loom2d.ui.SimpleLabel

;




    

import

 

loom.store.Store

;


    

import

 

loom.store.Product

;


    

import

 

loom.store.Transaction

;



    

/**




     * Example for in app payment using the Loom Store API.




     *




     * WARNING: This example does not work out of box. Testing in app payment




     * on device requires that you have valid certificates, application ids, 




     * product ids, test accounts, and legal agreements in place with your




     * platform provider under your development account. This varies by 




     * platform, and requires setup. See the Loom Manual for details on getting 




     * set up for in app purchase.




     *




     * This application launches, queries the store for SKU information, then 




     * once information is received, it prompts you to purchase an item. As each




     * step completes it logs output and updates the app caption.




     */


    

public

 

class

 

StoreExample

 

extends

 

Application


    

{


        

/// Label to display state of demo.        


        

public

 

var

 

label

:

SimpleLabel

;



        

/// Called when app is ready to run.


        

override

 

public

 

function 

run

():

void


        

{


            

// Provide a fell warning for new users.


            

trace

(

"********************************************************************************"

);


            

trace

(

"********************************************************************************"

);


            

trace

(

"********************************************************************************"

);


            

trace

(

""

);


            

trace

(

"WARNING: This example does not work out of box. Testing in app payment"

);


            

trace

(

"on device requires that you have valid certificates, application ids, "

);


            

trace

(

"product ids, test accounts, and legal agreements in place with your"

);


            

trace

(

"platform provider under your development account. This varies by "

);


            

trace

(

"platform, and requires setup. See the Loom Manual for details on getting "

);


            

trace

(

"set up for in app purchase."

);


            

trace

(

""

);


            

trace

(

"********************************************************************************"

);


            

trace

(

"********************************************************************************"

);


            

trace

(

"********************************************************************************"

);




            

// Comment out this line to turn off automatic scaling.


            

stage

.

scaleMode

 

=

 

StageScaleMode

.

LETTERBOX

;



            

// Setup standard demo UI.


            

var

 

bg

 

=

 

new

 

Image

(

Texture

.

fromAsset

(

"assets/bg.png"

));


            

bg

.

width

 

=

 

stage

.

stageWidth

;

 
            

bg

.

height

 

=

 

stage

.

stageHeight

;

 
            

stage

.

addChild

(

bg

);



            

var

 

sprite

 

=

 

new

 

Image

(

Texture

.

fromAsset

(

"assets/logo.png"

));


            

sprite

.

center

();


            

sprite

.

x

 

=

 

240

;


            

sprite

.

y

 

=

 

120

;


            

stage

.

addChild

(

sprite

);



            

// Set up the label to show app state.


            

label

 

=

 

new

 

SimpleLabel

(

"assets/Curse-hd.fnt"

,

 

320

,

 

128

);


            

label

.

text

 

=

 

"Initializing..."

;


            

label

.

x

 

=

 

stage

.

stageWidth

/2 - 320/

2

;


            

label

.

y

 

=

 

stage

.

stageHeight

 

-

 

164

;


            

stage

.

addChild

(

label

);



            

// Register Store callbacks before initializing the store.



            

// Called when product information is returned.


            

Store

.

onProduct

 

+=

 

function

(

p

:

Product

):

void


            

{


                

// Product provides a nice toString() implementation. But


                

// check out its loom docs for a full reference.


                

trace

(

"PRODUCT: "

 

+

 

p

.

toString

());


            

};



            

// Called when transaction information is received after


            

// the purchase.


            

Store

.

onTransaction

 

+=

  

function

 

(

txn

:

Transaction

):

void


            

{


                

label

.

text

 

=

 

"Item bought!"

;



                

// Transaction provides a nice toString() implementation. But


                

// check out its loom docs for a full reference.


                

trace

(

"TRANSACTION: "

 

+

 

txn

.

toString

());



                

trace

(

"New item bought!"

);


            

};



            

// Initialize the store. If there are pending transactions (for 


            

// instance on Android the Play app can unload your app, then post


            

// back transactions when it launches your app again) they will


            

// be reported now. That's why we register callbacks beforehand.


            

//


            

// You can pass Store.DUMMY_PROVIDER to initialize() to use the


            

// dummy provider, which always returns product data and always


            

// allows purchases.


            

trace

(

"Initializing store..."

);


            

Store

.

initialize

(

Store

.

DUMMY_PROVIDER

);


            

trace

(

"   o done!"

);



            

// Report the provider information.


            

trace

(

"   Using store provider: "

 

+

 

Store

.

providerName

 

);


            

trace

(

"              available: "

 

+

 

Store

.

available

 

);



            

// Request product info. This is REQUIRED - for instance on iOS


            

// your app will be rejected if you do not request product info


            

// before doing a purchase.


            

trace

(

"Requesting product information..."

);


            

label

.

text

 

=

 

"Loading Products!"

;


            

Store

.

listProducts

([


                    

"co.theengine.loomdemo.billing.managedproduct"

,

 
                    

"co.theengine.loomdemo.billing.unmanaged"

,


                    

"co.theengine.loomdemo.billing.subscription"

,


                    

"co.theengine.loomdemo.billing.testconsumable"

,


                    

],

 

onCompleteList

);



            

// Great - we'll get called back when the product listing operation


            

// completes.


        

}



        

/// Called when the product info request is done.


        

protected

 

function 

onCompleteList

():

void


        

{


            

// Report to user.


            

trace

(

"Listing complete!"

);


            

label

.

text

 

=

 

"Buying something!"

;



            

// Request a purchase.


            

trace

(

"Initiating purchase..."

);


            

Store

.

requestPurchase

(

"co.theengine.loomdemo.billing.testconsumable"

,

 

onPurchaseUIComplete

);


        

}



        

/// Called when the purchse UI is gone; note it could be arbitrarily 


        

/// long until the transaction is reported.


        

protected

 

function 

onPurchaseUIComplete

():

void


        

{


            

// Notify user; we don't need to do anything, we will receive


            

// a transaction when the store API is done processing.


            

trace

(

"Purchase process completed, waiting for transaction!"

);


        

}


    

}




}