Overview
This example shows basic usage of the Loom Gamepad API.
On Mac OS X, you can use a WiiMote and WJoy application.
On Windows you can use an XBox 360 Controller or any controller that uses the Windows Game Controller API. You can open up the Game Controller panel on Windows by going to Start > Run > joy.cpl. Anything that shows up in Game Controller panel will work with the Loom Gamepad API.
Try It
Use the following Loom CLI commands to run this example:
loom new MyGamepadExample --example GamepadExample


cd 

MyGamepadExample
loom run

Screenshots
If Loom cannot find gamepads the example will show "No Gamepad Detected!"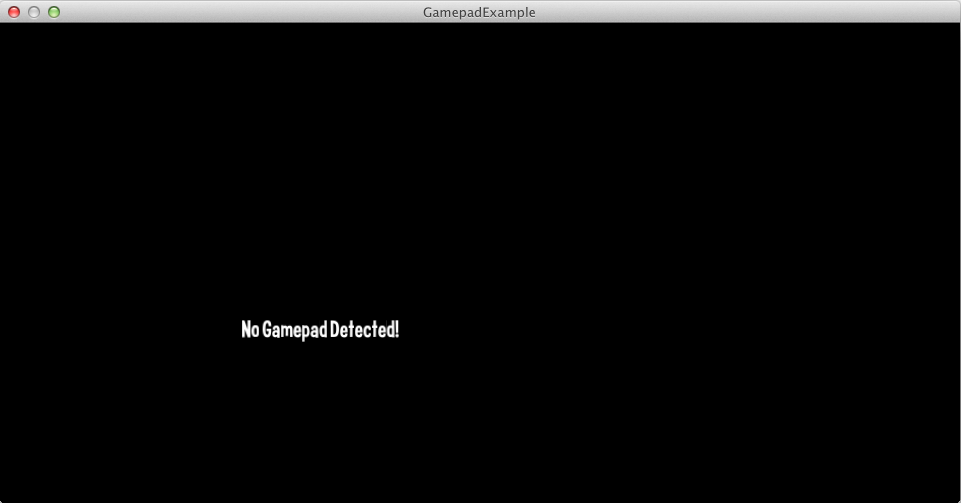 Code
src/GamePadExample.ls
package




{


    

import

 

loom.Application

;



    

import

 

loom2d.display.StageScaleMode

;


    

import

 

loom2d.display.Image

;

   
    

import

 

loom2d.textures.Texture

;


    

import

 

loom2d.math.Point

;


    

import

 

loom2d.ui.SimpleLabel

;



    

import

 

system.platform.Gamepad

;



    

public

 

class

 

GamePadExample

 

extends

 

Application


    

{


        

var

 

buttonSprites

 

=

 

new

 

Vector.<Image>

();


        

var

 

hatLabel

:

SimpleLabel

;


        

var

 

axisLabels

 

=

 

new

 

Vector.<SimpleLabel>

();



        

var

 

hatText

:

Dictionary

.<

int

,

 

string

>

 

=

 
        

{

 
            

Gamepad

.

HAT_CENTERED

:

 

"Center"

,


            

Gamepad

.

HAT_UP

:

 

"Up"

,


            

Gamepad

.

HAT_RIGHT

:

 

"Right"

,


            

Gamepad

.

HAT_LEFT

:

 

"Left"

,

 
            

Gamepad

.

HAT_DOWN

:

 

"Down"

,


            

Gamepad

.

HAT_RIGHTUP

:

 

"Right & Up"

,


            

Gamepad

.

HAT_RIGHTDOWN

:

 

"Right & Down"

,


            

Gamepad

.

HAT_LEFTUP

:

 

"Left & Up"

,

 
            

Gamepad

.

HAT_LEFTDOWN

:

 

"Left & Down"

 
        

};



        

override

 

public

 

function 

onTick

()


        

{


            

Gamepad

.

update

();


        

}



        

override

 

public

 

function 

run

():

void


        

{



            

Gamepad

.

initialize

();



            

stage

.

scaleMode

 

=

 

StageScaleMode

.

LETTERBOX

;



            

var

 

label

:

SimpleLabel

;



            

// check whether any gamepads were detected


            

if

 

(!

Gamepad

.

numGamepads

)


            

{


                

label

 

=

 

new

 

SimpleLabel

(

"assets/Curse-hd.fnt"

,

 

320

,

 

240

);


                

label

.

text

 

=

 

"No Gamepad Detected!"

;


                

label

.

x

 

=

 

240

;


                

label

.

y

 

=

 

240

;


                

label

.

scale

 

=

 

.

5

;


                

stage

.

addChild

(

label

);

                
            

}


            

else


            

{

   
                

var

 

gamepad

 

=

  

Gamepad

.

gamepads

[

0

];



                

var

 

x

 

=

 

150

;


                

var

 

i

 

=

 

0

;


                

buttonSprites

.

length

 

=

 

gamepad

.

buttons

.

length

;



                

label

 

=

 

new

 

SimpleLabel

(

"assets/Curse-hd.fnt"

);


                

label

.

text

 

=

 

"Buttons"

;


                

label

.

x

 

=

 

20

;


                

label

.

y

 

=

 

150

;


                

label

.

scale

 

=

 

.

5

;


                

stage

.

addChild

(

label

);



                

var

 

sprite

:

Image

;



                

//setup button sprites


                

for

 

(

i

 

in

 

gamepad

.

buttons

)


                

{


                    

sprite

 

=

  

new

 

Image

(

Texture

.

fromAsset

(

"assets/logo.png"

));


                    

sprite

.

x

 

=

 

x

;


                    

sprite

.

y

 

=

 

172

;


                    

sprite

.

scale

 

=

 

.

2

;


                    

stage

.

addChild

(

sprite

);


                    

buttonSprites

[

i

]

 

=

 

sprite

;


                    

x

 

+=

 

48

;



                    

gamepad

.

buttonEvent

 

+=

 

function

(

button

:

int

,

 

state

:

Boolean

)

 

{



                        

if

 

(

i

 

!=

 

button

)


                            

return

;



                        

buttonSprites

[

button

].

scale

 

=

 

state

 

?

 

.

3

 

:

 

.

2

;

                        
                    

};


                

}



                

label

 

=

 

new

 

SimpleLabel

(

"assets/Curse-hd.fnt"

);


                

label

.

text

 

=

 

"Directional Pad"

;


                

label

.

x

 

=

 

20

;


                

label

.

y

 

=

 

90

;


                

label

.

scale

 

=

 

.

5

;


                

stage

.

addChild

(

label

);



                

if

 

(

gamepad

.

hats

.

length

)


                

{


                    

hatLabel

 

=

 

label

 

=

 

new

 

SimpleLabel

(

"assets/Curse-hd.fnt"

);


                    

label

.

text

 

=

 

"Centered"

;


                    

label

.

x

 

=

 

240

;


                    

label

.

y

 

=

 

108

;


                    

label

.

scale

 

=

 

.

3

;


                    

stage

.

addChild

(

label

);



                    

gamepad

.

hatEvent

 

+=

 

function

(

hat

:

int

,

 

state

:

int

)

 

{


                        

hatLabel

.

text

 

=

 

hatText

[

state

];


                    

};


                

}



                

label

 

=

 

new

 

SimpleLabel

(

"assets/Curse-hd.fnt"

);


                

label

.

text

 

=

 

"Axis"

;


                

label

.

x

 

=

 

20

;


                

label

.

y

 

=

 

32

;


                

label

.

scale

 

=

 

.

5

;

                
                

stage

.

addChild

(

label

);




                

axisLabels

.

length

 

=

 

gamepad

.

axis

.

length

;


                

x

 

=

 

240

 

-

 

(

48

 

*

 

axisLabels

.

length

)

 

/

 

2

;


                

for

 

(

i

 

in

 

gamepad

.

axis

)


                

{


                    

label

 

=

 

new

 

SimpleLabel

(

"assets/Curse-hd.fnt"

);


                    

axisLabels

[

i

]

 

=

 

label

;


                    

label

.

text

 

=

 

"0"

;


                    

label

.

x

 

=

 

x

;


                    

label

.

y

 

=

 

50

;


                    

label

.

scale

 

=

 

.

3

;


                    

stage

.

addChild

(

label

);


                    

x

 

+=

 

48

;



                    

gamepad

.

axisEvent

 

+=

 

function

(

axis

:

int

,

 

state

:

float

)

 

{



                        

if

 

(

i

 

!=

 

axis

)


                            

return

;



                        

axisLabels

[

i

].

text

 

=

 

(

int

(

state

 

*

 

100

)).

toString

();

                       
                    

};



                

}



            

}


        

}


    

}




}